Watch Video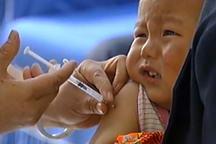 Play Video
There have been no major epidemic outbreaks in Zhouqu County so far. This has been the case thanks, in large part, to a contingency plan set up by medical experts and staffers. Our reporter Wang Guan went to a local Disease Control Command to find out how its efforts are helping affected residents avoid bacteria and viruses.
Two-year-old Liu Yi escaped the deadly mudslide that destroyed his house 10 days ago.
Now he's among 200 toddlers receiving free daily vaccinations at the only remaining hospital in Zhouqu County.
Local disease control authorities say children are most prone to diseases in a post-disaster environment, and can easily pass germs on to adults, thus causing epidemic outbreaks.
A nurse in Zhouqu Temporary Disease Control Command, said, "Water quality can't be guaranteed after the mudslide, and this will give rise to intestinal infections. We're providing hepatitis-A vaccinations for children."
Three vaccination centers have been set up, and more than 700 infants and small children have been inoculated.
According to the Zhouqu Temporary Disease Control Command, there have been no outbreaks of infectious diseases yet. Most local residents come here for diarrhea or intestinal infections.
Experts say this is due to limited access to water and sanitation facilities. A contaminated environment and mounting garbage are also putting people's health at risk.
Since the disaster struck, hundreds of medical staffers have been disinfecting an area of 120-thousand square meters. That's the size of about 16 football pitches.
The liquid they spray contain both disinfectants and pesticides. one to deal with bacteria from decayed human remains, the other to keep insects away.
Behind these efforts was a Disease Control Contingency Team. It was set up by experts from the provincial capital, Lanzhou, after the county's only Disease Control Center was destroyed by the mudslide.
Liu Jiandi, Deputy Director of Gansu Provincial Disease Control Center, said, "We brought 26 Wi-Fi enabled laptop computers and medical teams to Zhouqu. On one hand, medical centers have been set up across the county to treat those who fall sick. On the other land, they collect data on new infection cases and, with the help of computers, we set up a county-wide disease monitoring network, and release information in a timely manner."
Since the disaster, there have been 21 reported cases of infectious diseases, including five instances of malaria.
This figure is not big, considering the county's population of 150-thousand, but this doesn't mean the disease control effort is over.
Editor:Zhang Jingya |Source: CNTV.cn