Watch Video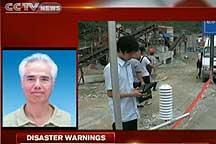 Play Video
Recent months have featured a string of geological disasters in different parts of the country. While the public continues to mourn the victims, people are also starting to discuss setting up a national warning system that would allow precautions to be taken.
For more insight into this issue, we're now joined on the phone by Mr. Chen Yiwen, an advisor for the China's Disaster Prevention Association.
Establishment of warning systems
1: Is it logistically and realistically possible to establish a system that would minimize potential harm from disasters?
Preventing panic from public
2: A warning system can tell people to take precautions, but it might also trigger panic from the public. What can we do to prevent chaos?
Editor:Zhang Jingya |Source: CNTV.cn