Watch Video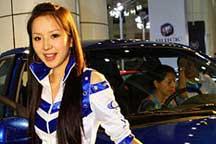 Play Video
The 15th annual Dalian International Auto Show has gotten underway in Liaoning Province. There are more than one-thousand vehicles on show over a massive area of 120,000 square meters this year. The event has attracted car-makers from China, the US, Germany, Britain, France, and Japan.
More than 10 Chinese car-makers have their newest vehicles on show, including Chery, Great Wall, Jianghuai, and Xiali.
The domestic industry has seen significant improvement with new luxury cars now on the market.
Chery is one of the leading car makers with two luxury brands called Riich and Rely.
One of the newly released cars is the G5, which is famous for its involvement during the 60th anniversary of China's National Day.
Cheng Dahu, Manager of Taihe Yate Sales & Service Company, said, "We hope to build vehicles with the best technology. G5 is Chery's bold breakthrough, which is equipped with a two-liter VVT engine –- one of the best in the world. Actually, some of our cars have sold very well in the international market."
For Chinese consumers, local brands are their number one choice.
A visitor said, "I like this car's styling, and it is suitable for my business. My friend bought one, and he told me it is quite good."
Many domestic auto-makers, such as Geely, BYD, and Great Wall are making great efforts to research and develop new greener and cleaner vehicles. BYD says its new energy vehicles, like hybrid power and electric cars, will be released soon.
International car-makers also have their own strategy to take more of the market share.
Dalian's International Auto Show runs for five days. Over the past 14 years, more than 35-thousand vehicles have been sold at the show. It's one of the best-known trade events of its kind in China.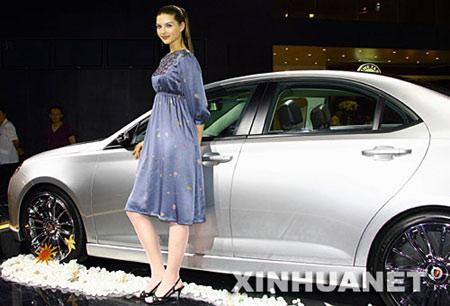 A model poses by a car at Dalian International Auto Industry Exhibition opened in Dalian,
a coastal city of northeast China's Liaoning Province on Aug. 19, 2007. Attracting over
300 companies from both home and abroad with about 800 entire cars, the exhibition covered
an area of 80 thousand square meters and would last for four days. (Xinhua Photo)