Watch Video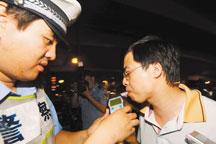 Play Video
To make China's roads safer, drinking and driving and street racing have been written into the draft amendment of the nation's Criminal Law. Both of those acts will be crimes. The move comes as bad drivers pose an increased threat on the country's roads.
Last year, Chinese traffic police caught more than 300,000 drivers drunk behind the wheel.
Monday's draft amendment states that drivers convicted of drinking and driving or street racing could face fines or detention, even if their actions don't result in an accident.
Many concerned citizens are welcoming the road safety crackdown.
A concerned citizen who opposes drunk driving said, "I think drunk drivers should face tough punishments, regardless of whether the consequence of their drunk driving is severe or not, because it poses a potential threat."
Anoter citizen said, "I think the reason why drunk driving is so common is that the punishment is not powerful enough."
Currently, the punishment for drinking and driving is up to 15 days' detention, or a fine less than 2,000 yuan. Most drivers also have their license suspended or canceled. Traffic officials say the lenient punishments have contributed to the high rate of drinking and driving.
Ma Guangzhi, Vice Director, Fushun Traffic Police, Liaoning Province, said, "The cost to violate the rules on drunk driving is relatively low, leading to the vague constitutional awareness for many drivers. It's very harmful to society, so I think the behavior should be regulated by the law."
As the number of drinking and driving-related traffic accidents increased over recent years, rules and regulations have been toughened.
In April, traffic police boosted the number of random breath tests on roads of the country. Those convicted are fined 500 yuan, and lose their license for three months.
Drunk drivers who cause death, severe injuries, or economic losses to others, face a jail sentence of up to three years.
Editor:Zhang Jingya |Source: CNTV.cn