Watch Video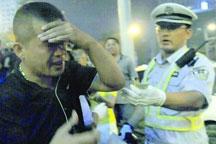 Play Video
According to data from the Ministry of Public Security, police officers pulled over more than 320-thousand people for drinking and driving between the months of January and July across the country.
More than 40-thousand of those individuals were confirmed as drunk, an increase of roughly 66 percent over last year. Authorities have become quite strict in fighting this behavior, but many motorists are still trying their luck.
This is a routine traffic checkpoint in Anhui Province.
A car was stopped, and the driver didn't pass an alcohol examination.
A subsequent test showed the alcohol content in his blood to be very high, clear evidence of drunk driving. He was fined 1,000 yuan, and was going to be detained for 15 days.
Kang Bin, Vice Director of Luyang Traffic Police Detachment, said, "Since the temperature is high, many people like to have some beers while attending barbecues. So the number of drinking and driving cases is rising. We have strengthened measures to punish drunk drivers."
The consequences of drinking and driving have been astonishing over the past year.
On June 30th, 2009, a 43-year-old man got behind the wheel while intoxicated. His car crashed into a street lamp, then toppled a watermelon stand, before hitting nine bystanders and six other vehicles. Five people died, including one pregnant woman, and four others were injured.
More than a month later, a 16-year-old girl was killed while crossing the road, by a car driven by a drunk man. He was cruising along at more than 74 kilometers per hour, but the speed limit at the site of the accident is just 60 KPH.
On August 5th of this year, a similar situation led to two deaths and 10 injuries in Heilongjiang Province. Over the following three days, two more drinking and driving cases occurred in Shanghai, one of which killed a four-year-old boy.
Statistics show that one fourth of drinking and driving incidents will lead to traffic accidents or deaths. This has sparked widespread public calls for severe punishment for this behavior.
Editor:Zhang Jingya |Source: CNTV.cn