Watch Video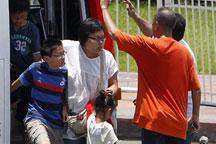 Play Video
President Hu Jintao and Premier Wen Jiabao have signed a joint condolence letter to Donald Tsang, Chief Executive of Hong Kong SAR over the Manila hostage tragedy in which 8 Hong Kong tourists died.
The Chinese government has sent a team to the Philippines to deal with the aftermath of the hostage taking incident. A chartered flight is already in Manila and will bring back the bodies of victims and some of the wounded.
The death toll from the hostage-taking amounts to 8 after a woman from Hong Kong died in hospital of serious wounds.
A working team sent by the Chinese government to deal with the hostage crisis arrived on Tuesday.
Chinese Ambassador to the Philippines Liu Jianchao met with Philippine President Benigno Aquino III on Tuesday afternoon and demanded that the Philippine government carry out a thorough investigation into the case.
Liu said, "The Chinese side has asked the Philippines to help us with procedures so we can take the bodies of the victims back to Hong Kong as soon as possible. We have demanded that they conduct a thorough investigation. President Aquino said they are investigating the case and has briefed us on the preliminary result."
President Aquino said officials led by the country's Vice President will fly to Beijing and Hong Kong to present the final report to Chinese authorities.
Aquino later spoke with Hong Kong leader Donald Tsang by phone.
The Hong Kong Security Bureau says two of the survivors are returning to Hong Kong on civil aircraft and a Hong Kong chartered flight will stay in Manila until tomorrow night, it will carry back bodies of the victims.
The wounded are being treated in hospitals in Manila.
A Buddhist ceremony was held on Tuesday for the victims at the site of the hostage taking.
Relatives of the victims and officials who flew in from Hong Kong mourned the dead.
Related stories
Editor:Zhang Jingya |Source: CNTV.cn