Watch Video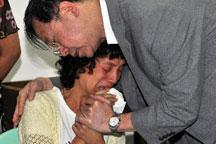 Play Video
Hong Kong's Chief Executive Donald Tsang, has told reporters that the SAR government will spare no effort in assisting victim's families of the hostage crisis. Local residents reacted with sadness and anger to the bloody end that took place in Manila on Monday night.
Hong Kong woke up in sorrow Tuesday morning.
Local authorities flew flags at half mast across the SAR.
Donald Tsang, Hong Kong Chief Executive, said, "This is a major tragedy. It is disappointing that Hong Kong residents trying to make a pleasure trip to Manila ended up with death and casualties. This is very tragic and the way it was handled, particularly the outcome, I find it is disappointing. I feel extremely sorry for them."
At the Hong Kong Stock Exchange, staff held a minute's silence shortly before opening for business at 10 a.m.
Hong Kong newspaper headlines expressed grief and incomprehension at the deaths. Many printed their mastheads in black as a sign of respect to the victims. Sadness filled the whole city.
Mr. Gu, Hong Kong resident, said, "I'm very sad, very unhappy, I think everyone in Hong Kong is feeling very unhappy."
Ms. Yu said, "I'm very sad, the loss of life is such a waste, the hostage-taker is too crazy, killing those innocent people."
Families of each victim will receive some 320-thousand yuan in compensation from the Hong Thai travel agency. For the victims who purchased insurance, they will be compensated at most, 1-million Hong Kong dollars.
The SAR government issued a Black Outbound Travel Alert for the Philippines, the highest level of Hong Kong's Outbound Travel Alert system.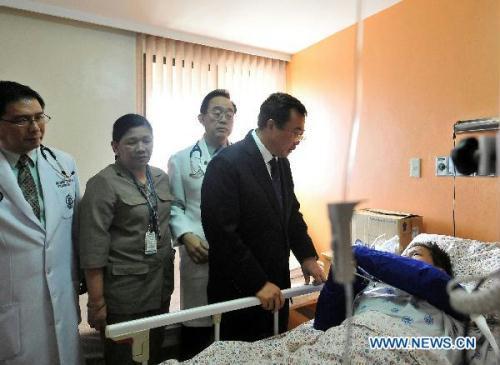 Chinese ambassador Liu Jianchao (2nd R) visits an injured tourist of the hostage-
taking incident in a hospital in Manila, capital of the Philippines, Aug. 24, 2010.
(Xinhua/Wong Pun Keung)
Related stories