Watch Video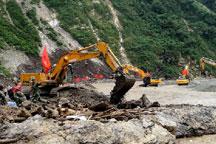 Play Video
Almost nine-and-a-half million people have been affected by the recent mudslide in southwest China's Sichuan province. 24 people have been killed while 79 others are still missing.
Authorities say more than half a million people have been evacuated from the disaster zone. Key roads leading to mudslide-hit areas have reopened. They include the important route linking Wenchuan and Yingxiu.
So far most roads have been cleared, allowing hundreds of vehicles loaded with rescue and relief supplies to get into the disaster zone. Victims are also being evacuated from the area by road. In Yingxiu, one of the worst hit area, the clearing of mudslide sludge and debris has come to an end. Rescuers will begin to examine buildings and houses to ensure their safety in the future.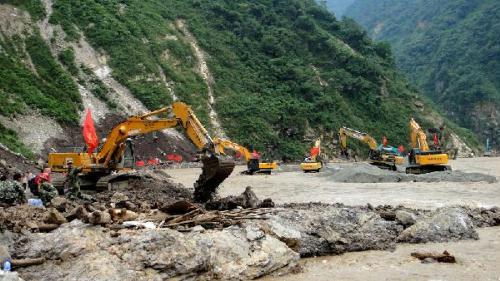 Cranes are used to finish repairing the last part of a landslide-hit road in
Mianzhu City, southwest China's Sichuan Province, Aug. 22, 2010. (Xinhua/Wang
Ping)
Editor:Zhang Jingya |Source: CNTV.cn