Watch Video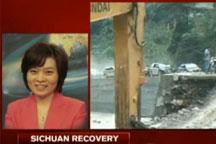 Play Video
Updates: Key roads reopened in Sichuan
Almost nine-and-a-half million people have been affected by the recent mudslide in southwest China's Sichuan province. 24 people have been killed while 79 others are still missing. Full Story>>
Let's get the latest on the Sichuan mudslide. Our reporter Gui Xiaozeng is in the disaster zone and joins us on the line now from Yingxiu County.
1. Good evening, Gui Xiaozeng. You have been to both Yingxiu township and Wenchuan county. What can you tell us?
2. As the national highway 213 has re-opened, what does it mean to local residents?
Editor:Zhang Jingya |Source: CNTV.cn