Watch Video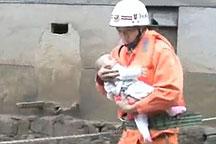 Play Video
Heavy floods have isolated 24 villagers in Southwest China's Qianjin county. The only way for them to get out is on a bridge, but it's shaking, crumbling and could collapse. So, firefighters have been sent it to rescue them.
24 villagers trapped. No where to go. Desperate for help.
Their county is already flooded. Water levels are continuing to surge.
None of them are game enough to walk across the brittle bridge.
So, the local government quickly sent firefighters to help them.
One firefighter was brave enough to cross the bridge, slowly approaching it, with the support of a rope system.
That rope become his life line and that of the villagers he would soon rescue.
The firefighter encouraged the villagers to cross the bridge hanging onto the rope.
After a couple of people crossed, a major challenge.
A newborn baby is on the other side, desperately waiting to get to safety with everyone else.
The firefighter decided to walk across the unstable bridge without his rope and rescue the baby.
Luckily, the bridge held up.
After rescuing all of the villagers, there was no time to rest. They soon got another call to rescue a 63-year-old man who had broken his leg and was trapped.
After travelling miles across rugged roads, the firefighters finally found him and were able to carry him too to safety.
Unsung heroes working non-stop to help those affected by the floods.
Editor:Zhang Jingya |Source: CNTV.cn