Watch Video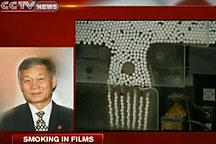 Play Video
Background: The Association of Tobacco Control has published its monitor report on smoking scenes of 2009's 70 most popular movies and TV series. The result shows that a stunning 85 percent of the monitored work, contained smoking scenes. The Association is calling for an end to smoking scenes in movie and TV production. Full Story>>
To further discuss tobacco control, we're joined on the phone by our current affairs commentator, Mr. Gregory Yingnien Tsang.
Influence of smoking on young people
1: Hello, Mr. Gregory, the number of Chinese films being produced is increasing and so is the number of young people going to watch them. What kind of effect do you think smoking scenes in films has on young people?
How to reduce smoking in films?
2: What do you think authorities can do to reduce or eliminate smoking scenes in Chinese films?
Editor:Zhang Jingya |Source: CNTV.cn