Watch Video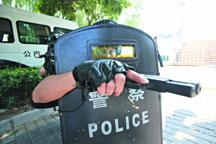 Play Video
The 11 hours on the hijacked bus brought horror and sorrow to the survivors of the crisis. Yet heroic actions by some hostages helped save more lives.
About two hours after the hijacking, the gunman Rolando Mendoza agreed to release some of the hostages.
When Ms. Zeng and her two children were allowed to leave, she noticed a boy nearby.
She told Mendoza the boy was a relative of hers and asked if she could also take him with her.
She managed to get all 3 children out.
Ms. Zeng walked out of the bus and didn't look back.
She would never see her husband alive again, nor would the boy she saved see his parents.
Messages on the Internet hailed her as a representative of the heroic spirit of Hong Kong people, still thinking of saving other people's lives while in great danger herself.
The other hero was 31-year-old tour guide, Tse Ting Chunn, known as Masa.
The ten year-veteran at Hong Thai Travel Service pretended to be one of the tourists after the bus was hijacked and managed to make a short phone call to the travel agency.
His information was very valuable to Hong Kong authorities.
Later, he was handcuffed beside the door of the bus. Mendoza was using him as a human shield before shooting him dead.
Tse had studied yoga in India and was planning to be a yoga teacher very soon.
His dreams ended with atrocity by the gunman, but he will be remembered by his friends and other people for his bravery and calmness.
Related stories
Editor:Zhang Jingya |Source: CNTV.cn