Watch Video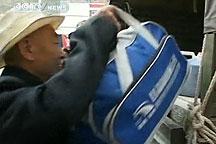 Play Video
We all know about the devastating land and mudslides in Zhouqu and Yingxiu counties recently. Well, Beijing is also at risk. 243 families living in Fangshan district, a mountainous region on the outskirts of the Chinese capital, have been relocated to a safer location.
The government says living at the base of mountains in Fangshan district is dangerous. That's why it's offering all 243 families compensation to move. Relocation expenses will also be covered. The government wants them to move to a safer, more open place.
The problem is heavy rainfall at any moment could trigger a landslide here, especially in mountainous areas north and west of Beijing.
Torrential rainfall in the Chinese capital recently has increased the risk to those living near mountains. The Government has warned residents in Fangshan, Huairou, Miyun, Pinggu and Mentougou to be on alert during rainy days.
A landslide in Fangshan recently injured 3 tourists and damaged 2 cars.
Local governments in these risky areas are taking measures to prevent potential landslides before all residents are relocated by the end of this year.
In Huairou, residents started moving back in 2007. So far, nearly 4-thousand families have accepted the government's offer. For those still living there, they are being warned of the risks.
Miyun is developing a regional landslide warning system. Residents living in dilapidated houses should leave the area when more than 5 millimeters of rain falls. When it's 80 millimeters or more, all residents must leave immediately.
Although lots of preventive measures are being taken, experts say relocation is still the safest and best way to go.
Related stories
Editor:Zhang Jingya |Source: CNTV