Watch Video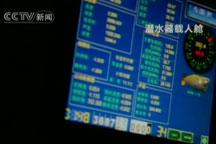 Play Video
China's deep water submersible "Jiaolong" has just finished a series of successful trials, making it one of the most advanced vessels of its kind in the world. The sub recently dived 37-hundred meters under the South China Sea and worked underwater for over 9 hours.
Three divers preparing to board the manned deep water submersibles.
They are going to work under the waters up to 3,700 meters.
Liu Feng, Director, Manned Deep Water Submersible Text Project, said, "Everyone gets ready. Go!"
After preparations are complete and tests are done, the submersible slowly descends into the depths of the South China Sea at 37 meters per minute.
Ye Cong, Chief Driver, "Jiaolong" submersible, said, "Headquarters, the submersible is diving up to 1,000 meters. Everything is running well."
One hour later, the "Jiaolong" submersible reaches the average sea depth of about 36-hundred meters.
Then, it came to rest on the 3755-meters-deep-sea floor, staying at the bottom of the sea with zero buoyancy.
At that moment all of the directors at the control center jumped to their feet to congratulate the crew.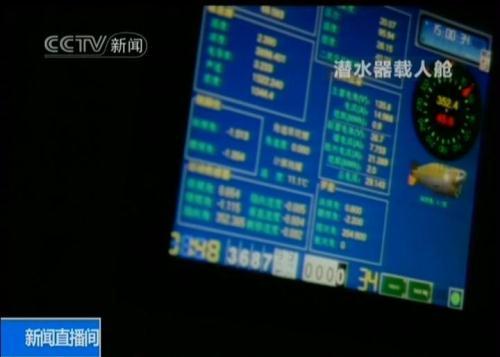 The domestically designed and manufactured "Jiaolong" submersible has completed
a successful trial operation, diving to depths of 3,700 meters, and working
underwater for over 9 hours.
The first underwater picture taken from the"Jiaolong" was transmitted back in ten minutes.
China's national flag was also laid there.
Ye said, "The maximum diving depth is 3759 meters. All work is complete and we ask for you to return now."
After one hour and twenty minutes, the "Jiaolong" submersible returns to the surface, successfully completing a trial operation.
The three submersible drivers come out of their pod to the applause of their colleagues.
They then showed China's national flag to express their love of their motherland.
Related stories