Watch Video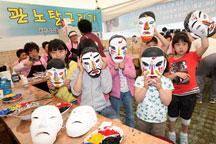 Play Video
For centuries, Chinese culture has had great influence on neighboring countries like South Korea and Japan. But as a result, there are disputes when neighbors apply for UNESCO recognition of traditions which share similarities.
In 2009, China's Dragon Boat Festival made the list for the UNESCO project "Masterpieces of Oral and Intangible Heritage of Humanity". However, four years earlier South Korea's Gangneung Danoje Festival had won the same recognition. The two festivals fall at the same time of year and share some traditions, like eating rice dumplings.
Since 2005, there have been disputes over the origins of the festival. Some Chinese say the South Korean festival originated from China's Dragon Boat Festival, and therefore not be recognized by the UNESCO as a South Korean tradition.
But South Korea argues that their festival has a totally different origin. The issue remains unresolved, although many view the recognition of both festivals as a win-win situation by raising public awareness of preserving traditional festivals.
Editor:Zhang Jingya |Source: CNTV