Watch Video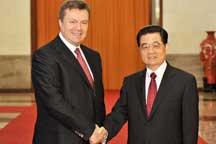 Play Video
President Hu Jintao has held talks with his Ukrainian counterpart Viktor Yanukovych. The two leaders have agreed to promote all-round China-Ukraine cooperative relations.
This was the second meeting between the two leaders in the past five months.
They last met in April during the Nuclear security Summit in Washington, where they reached important consensus.
President Hu Jintao said relations between China and Ukraine have developed smoothly since the establishment of formal diplomatic relations 18 years ago, and the consensus made during their last meeting has put more vitality into bilateral relations.
President Yanukvych said Ukraine would like to work with China to realize the consensus and to raise bilateral relations to a higher level. He also expressed his appreciation for China's important contributions in dealing with the global financial crisis.
President Hu said China would like to strengthen cooperation with Ukraine under the international and regional organization framework to promote world peace, stability and development.
Hu Jintao characterized the economic and trade relations between the two countries as complimentary and with good foundation.
He said both sides shall take the opportunity to expand the cooperation and strive for a trade volume target of 10 billion US dollars in 2012.
President Hu proposed expanding cooperation in other fields, including, science and technology, space and aviation, and infrastructure.
President Yanukovych said both sides shall work to develop the potential in the relations and to put more substance into strategic cooperation.
The two leaders witnessed the signing of several cooperation agreements and a joint communique on raising bilateral relations.
The Ukrainian President arrived in Beijing Thursday to start his four-day state visit to China.
He will meet with Wu Bangguo, chairman of the Standing Committee of the National People's Congress, and Premier Wen Jiabao on Friday.
Accompanied by nearly 60 entrepreneurs, Yanukovych will also attend a China-Ukraine business forum in Beijing.
Related stories
Editor:Zhang Ning |Source: CNTV