Watch Video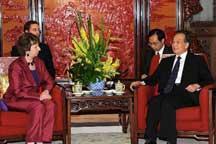 Play Video
Premier Wen Jiabao and Foreign Minister Yang Jiechi have separately met with the European Union's high representative for foreign affairs and security policy, Catherine Ashton in Beijing. Both sides pledged to promote the development of bilateral ties.
Premier Wen Jiabao noted that China-EU relations are at a key stage and require leadership from both sides to enhance the relationship and make important decisions to solve important issues.
He called on both sides to work closer to cope with the negative impacts brought on by the world financial crisis and Europe's ballooning debt.
Wen said the signing of the Lisbon Treaty, a milestone for the further integration of the European Union, has also brought new vitality to the EU's relations with China.
He said he expects to exchange ideas and expand consensus and plan for more comprehensive cooperation with European leaders at the 13th China-EU summit scheduled later this year.
Ashton said the EU has recognized the importance of China in the world and thanked China for its support on the EU's further integration and economic recovery.
She said the EU wishes to have wider dialogue with China to cope with global challenges.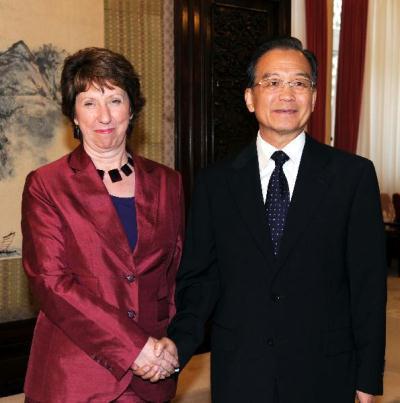 Chinese Premier Wen Jiabao (R) meets with European Union High
Representative for Foreign Affairs and Security Policy Catherine
Ashton in Beijing, capital of China, on Sept. 2, 2010.
(Xinhua/Rao Aimin)