Watch Video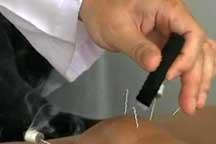 Play Video
As a traditional Chinese medicine, acupuncture used to be unusual to foreign people. But now in the US, it is becoming more and more popular.
To American people, choosing acupuncture is a bold choice but a potentially fast cure. Many patients turn to acupuncture when traditional western treatment fails to cure them. Nancy Cooper, a market promoter with Vogue magazine is one of them.
Patient Nancy Cooper said, "I've had pain, pain in my neck, pain in my shoulders, which probably comes from stress. And I've tried physical therapy,that didn't work. In fact it made it worse. Acupuncture is what I had here and I'm immediately better."
Acupuncture is winning American people's hearts for another reason. That is, a new and healthier life style.
US acupuncturist Song Jun said, "More and more Americans are pursuing a natural lifestyle. To keep fit, they are avoiding medicine and operations and choosing acupuncture, massage, Chinese medicine and chiropractice. Such treatments are very popular in the United States right now."
Acupuncture was first introduced into America by journalist James Reston, who escaped his operation pain with the help of acupuncture. Chinese medicine then became a hit in the United States.
An act was drafted in 2009 to include acupuncture in America's medicare reform package. Certain US insurance companies have already been paying for acupuncture since June. It means a good start for acupuncture in the US as it's on the way toward being accepted by the country's medicare system.
Wu Guoqing, fromer vice president of California Acupuncture Committee, said, "United States actually is spending almost as much money now on alternative medicine as opposed to traditional medicine. For some people want to find something else. Maybe they don't want to use drugs, or they don't want to use certain types of traditional medicines. So acupuncture and herbs are very very very important for them."
If the act is passed, it will enable 52 million senior US citizens to enjoy free acupuncture by the year 2014. The US government will also benefit from its inexpensive costs.
Editor:Zhang Ning |Source: CNTV