Watch Video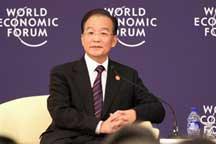 Play Video
The fourth Summer Davos session has officially opened in north China's coastal city of Tianjin. Over 1,4000 business leaders, academics, and officials are looking for ways to promote sustainable growth. They are looking at how companies and industries are transforming to meet future challenges, as they recover from the economic slowdown.
The foremost global business gathering in Asia...Greater competitiveness will allow entrepreneurship, innovation, and technology to create new growth opportunities.
Chinese Premier Wen Jiabao said, "China's development is open and the country's opening-up policy is a long-term, comprehensive and mutually beneficial policy. We will continue all the policies that support the opening up process. The Chinese government is committed to creating an open and fair environment for foreign invested enterprises. China gives high priority to intellectual property protection and has already made this a national strategy. We are ready to conduct exchanges and dialogue with other countries in this field. Here, I wish to reiterate that all enterprises registered in China according to Chinese laws are Chinese enterprises. Their products are made-in-China products."
Participants will engage in over one hundred interactive sessions throughout the three day forum.
Formats range from plenary meetings, to mentors' discussions, to networking lunches. Participants will brainstorm to reshape the competitive landscape in a resource limited world.
One key focus is on the rising role of Asia's soft power. And China, which just moved up two places in the Global Competitiveness Report, is leading the way of large developing economies.
The changing new growth context and new business model are posing challenges to many traditional
enterprises.And it's the common task of the new champions to find solutions.
This Summer Davos is likely to continue the last round's focus on the way out of crisis. Fears of a double-dip make it difficult to predict the shape of future growth. But the will to transform and the initiatives that are in place may help restore some confidence in the global business sector. It'll make interesting watching to see how participants use this platform to rethink and reshape.
Editor:Zhang Ning |Source: CNTV