Watch Video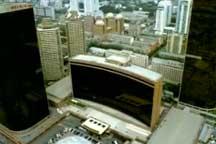 Play Video
Premier Wen Jiabao mentioned in his speech the increasing role of emerging economies in helping the world recover from the economic downturn. Let's take a look at how the four largest developing economies have contributed to global growth.
From 2006 to 2008, the number of BRIC country companies listed on the Financial Times global top 500 jumped from 15 to 62.
Goldman Sachs predicts that by 2050, the combined economies of BRIC could eclipse the economies of the G7.
The rise of BRIC economies has become a phenomenon in the world economic arena.
The global financial crisis has brought emerging economies closer to the center stage. They've become the main force of economic recovery.
From 2007 to 2009, BRIC contributed 45 per cent of world economic growth.
They also lead other emerging economies with faster development.
Many emerging economies have achieved faster econonomic growth than developed countries.
With strong domestic demand and big potential markets, their dependence on developed economies is decreasing.
And many predict they will play an increasingly important role on the world stage in the coming years.
Editor:Zhang Ning |Source: CNTV