Watch Video
Play Video
Turning to Kazakhstan where joint training in the "Peace Mission-2010" has begun. It's part of anti-terror drill staged by the Shanghai Cooperation Organization.
Army forces from China, Kazakhstan, Kyrgyzstan, Russia, and Tajikistan have held their second joint training session at the Matybulak training ground.
The aim is to get to know the terrain, become familiar with drill procedures, routes and the location of vehicles.
Special forces from the five memeber states, with the aim of strengthening cooperation, practiced how to surround and arrest terrorists in a mock village they had forcibly occupied.
Xu Xianghua, Deputy Head of Chinese Army Command, said, "According to our plan, this is the first time we have undertaken joint training with the four other countries. Our task is to familiarize ourselves with the drill plans, and to promote cooperation between other forces."
The control station has been set up. It consists of computerized control station and communication vehicles.
Through the radio station, commanders can send out operational orders and communicate with soldiers on the ground.
Meanwhile, military hardware including fighters, armed helicopters and vehicles are also taking part.
China's homegrown fighters Jian-10 and Hong-6 are in the spotlight because it's the first time they have been on display to the public.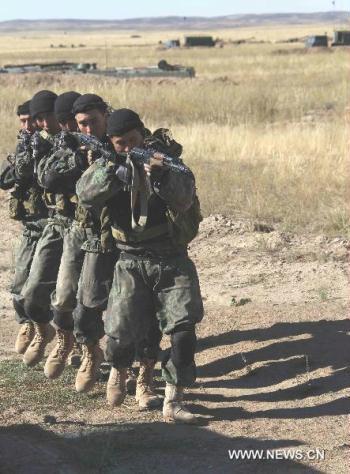 Kazak soldiers attend the joint military training of troops
from five Shanghai Cooperation Organization member states
in Matybulak Range in Kazakhstan, Sept. 15, 2010. As part
of the "Peace Mission 2010" joint anti-terror drills,
soldiers and military officers from Kazakhstan, China,
Kyrgyzstan, Russia and Tajikistan conducted their second
joint military training in Kazakhstan on Wednesday.
(Xinhua/Wang Jianmin)
Related stories