Watch Video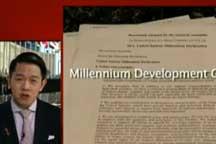 Play Video
Funding again has emerged as key in guaranteeing the success of the MDGs. With eight separate goals to be met, activists to policymakers are expressing equal concerns. James Chau continues his reports in New York from where he joins us live.
Q1: James, let's talk about China and where it stands on this?
Q2: And what about Africa and specifically countries like South Africa and Nigeria that are also seeing growth?
All James Chau's Reports from UN Millennium summit>>
Editor:Zhang Ning |Source: CNTV