Watch Video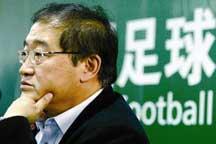 Play Video
The head of the Chinese Football Association Wei Di has pledged to continue his drive against corruption. It's his first public response to anti-corruption efforts undertaken by the Public Security Ministry.
Xie Yalong, former vice chairman of the football association and two of his close associates were detained nearly three weeks ago. They are now under "arrest status" according to the Criminal Law. It's reported that police have obtained evidence of them accepting bribes to fix matches and place players on and off the national team's payroll.
A police probe has so far netted more than a dozen players and officials, including Xie Yalong's former successor Nan Yong. Nan has admitted to accepting bribes.
Wei Di, the incumbent head of the Football Association says the anti-corruption efforts should continue to help clean up the sport.
Wei Di, Secretary-general of Chinese Football Association, said, "The deepening of the anti-corruption campaign is beneficial to Chinese football because a patient who suffers a serious disease can only have a normal life after the disease is cured. So personally, I think the anti-corruption campaign will help Chinese football to develop in a healthy way. By the way, I'm not worried about any negative impact it will have on the players and coaches in our national teams because the problem in Chinese football were mainly from the officials in the association."
Many fans expect more high-ranking football officials will fall in the anti-corruption campaign. Wei Di has declined to make a comment.
However, Gao Hongbo, head coach of the national team, believes the campaign will usher in a new era.
Gao Hongbo, head coach of Chinese National Football Team,said, "I firmly believe that Chinese football will take off with new leaders in the football association, new coaching staff in the national teams and a new football environment in the country."
The Public Security Ministry launched the anti-corruption campaign in late 2009. It started with an investigation into a football gambling case and soon spread to players, coaches and eventually to football association officials.
Editor:Zhang Ning |Source: CNTV