Watch Video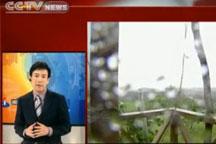 Play Video
For more on Typhoon Fanapi, we're joined from Taiwan by CTITV News Anchor Eric Shi. Good evening Eric.
1: Can you update us on the latest developments regarding Typhoon Fanapi? Are there any casualty reports?
2: How is the rescue operation progressing? Will the weather affect the effort over the next few days?
Related:
【VIDEO】Taiwan recovers from typhoon Fanapi
While Typhoon Fanapi continues to move west over the Chinese mainland, Taiwan residents are cleaning-up and counting their losses. This year's, strongest typhoon has killed at least one person and injured more than 100.
This is the worst flooding Taiwan's second largest city, Kaohsiung, has ever seen in 50 years. Water roared down streets and alleys, even submerging the first... Full Story>>
Editor:Zhang Jingya |Source: CNTV