Watch Video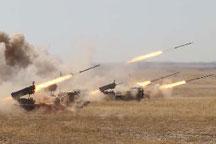 Play Video
In Southern Kazakhstan, soldiers from the Shanghai Cooperation Organization countries are having their last cooperative exercise before the final formal drill.
The operation code-named "Peace Mission 2010" involves five-thousand troops from China, Kazakhstan, Kyrgyzstan, Russia and Tajikistan. Uzbekistan is not taking part in the drill.
The drill involves tanks, armored vehicles, fighter planes, bombers, rockets and anti-aircraft missiles.
The operation begins with escorted bomber squadrons conducting surgical strikes to key targets.
Tian Feng, Deputy Chief of Staff, Chiese Battle Group, said, "Pilots from China, Kazakhstan and Russia will strike targets behind enemy lines at least 6 times to pave the way for ground attack."
Heavy firing follows the air-strike. Rockets are then slammed behind enemy lines to suppress counter attacks.
Tanks start to push into enemy defensive lines after the bombardment. They will clear a passage for infantry and logistic troops.
Armored personnel carriers are deployed to send soldiers to eliminate the remaining enemies and occupy key structures. The provision convoys, carrying food rations and ammunition, arrive after a safe perimeter has been set up.
After the joint exercise, commanders of participating countries believe the formal drill scheduled on the 24th will be a success.