Watch Video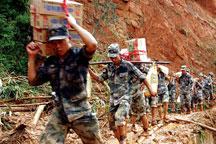 Play Video
Xinyi county in south China's Guangdong province is the hardest hit area after Typhoon Fanapi struck. All bridges leading into the region have been destroyed. The county is now isolated by floods, as more than four thousand residents are trapped. Makeshift rafts are now the only method to connect to the outside world.
This is not a scene from a disaster movie popularly shot by home video cameras. This is what really happened in Xinyi county a few days ago.
Rain caused floods and landslides enveloped the county, leaving a disastrous scene.
We were running together, he let me run in the front.
But when I reached the bank and looked back.
I couldn't find him.
The rain stopped, but potential downpours and landslides are still worrying residents.
A resident said, "There is a big reservoir on the mountain. We worry about a break in the bank. So every night, we walk to the mountaintop to prevent a possible break, especially if it rains."
Some worried residents use ropes and sticks to make shabby rafts to get away.
Most residents are confident they can overcome the difficulties, especially as rescue teams arrive.
These six-hundred armed police walked overnight from their base 16 kilometers away. With the help of the rescuers, residents are now busy cleaning up the mess and looking forward to their life returning back to normal.
Related stories
Editor:Zhang Jingya |Source: CNTV