Watch Video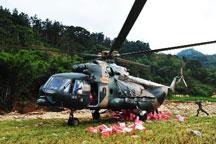 Play Video
Xinyi is not the only county isolated by floods. For those areas, helicopters are the only method to send relief goods to victims. On Saturday morning, a helicopter carrying food, bottled water and tents set off a second time to isolated Magui county.
Above a platform in Magui county, this helicopter is dropping relief goods. Boxes of food, bottled water and other basic living necessities will be transferred to a temporary storage center and then to victims.
Pan Yue, Vice Head of Magui, said, "We will first count the goods, then deliver them to victims. We will first deliver goods to people who need it most, like those whose houses were destroyed. Because most roads are blocked, we have to shoulder these goods and walk to 12 villages."
Guo Xifen is one of the residents affected. Her home was completely buried during the landslide. Now all five of her family members are living in her neighbour's home. As Guo goes out to help rescue workers, her 13-year-old daughter is responsible for taking care of her younger sister and brothers.
Guo's family is not unique in this terrible disaster. But with helicopters continuing to bring in supplies to the region, affected victims are receiving sufficient goods to get through this difficult time.
Related stories
Editor:Zhang Jingya |Source: CNTV