Watch Video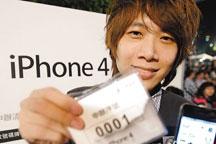 Play Video
Starting Saturday, the iPhone 4 will be available to customers on the Chinese mainland. People can either buy them at Apple Stores in Beijing, Shanghai and Hongkong or from Unicom, a major cell phone service provider in China.
Thousands began lining up outside both Apple Stores in Beijing on Friday. They are eager to snag one amid concerns of supply shortages.
In Shanghai, long queues can be seen overnight in front of the store, waiting for doors to open.
On Saturday, many people rushed to pre-order iPhones at Unicom stores.
iPhones are sold individually at Apple stores. While at Unicom, their sale is tied to a SIM card. Customers buying from Unicom have to wait days to actually lay their hands on the phone, since it's still in the pre-order phase.
But the company launched a program called "get one free with 5880 RMB in prepaid phone bills" to promote the sale. That means you get the iPhone for free by signing up for a two year contract and purchasing 5880 RMB in phone credits.
Unicom says as of Saturday, 200-thousand people preordered the phone online.
Yu Yingtao, Sales GM, China Unicom, said, "The demand for the phone is beyond our imagination. We are working hard to get phones into customers' hands as quickly as possible."
The iPhone 4 features FaceTime, which turns the dream of video calling into reality, and Apple's stunning new Retina display - the highest resolution display ever for a phone.
Editor:Zhang Jingya |Source: CNTV