Watch Video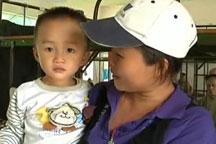 Play Video
Villagers in Hainan province are taking stock after a typhoon roared through the area flooding homes, businesses and farm land. Amazingly, no-one was killed.
One incredible story to come out of the disaster was a woman who gave birth moments after the wild weather struck.
This is Qionghai inundated by a torrent of floodwater up to three meters deep.
Profitable farmland and crops have been destroyed.
Roads are underwater.
Cars are useless, boats now essential.
Thousands of residents have been left homeless.
Here you can see the water mark of just how high the floods peaked at.
Residents, including Pan Ailin, ran for their lives.
As the typhoon hit, she was due to give birth.
Villager Pan Ailin said, "There was just water everywhere. I was so scared. But, thankfully a soldier took me to a car so I was able to get to safety."
Soldiers carefully took care of Pan Ailin and arranged doctors to check on her everyday at her emergency accommodation.
She said, "The medical team has been amazing. Thanks to them, I safely gave birth to my baby."
Many other flood-affected residents are being care for here.
They are receiving medical treatment, counseling and can keep busy in recreation rooms.
Now, they're waiting for waters to recede so they can try and get their lives back to normal.
Related stories
Editor:Zhang Jingya |Source: CNTV