Watch Video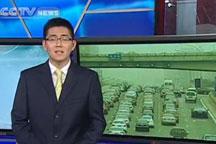 Play Video
One focus of China's 12th Five-Year-Plan is to tackle challenges during the country' urbanization process.
When cities become larger, how can they also become more livable. Our reporter Wang Guan did a bit of research on a problem perhaps few of us can escape today--traffic congestion. So Wang Guan, looks like traffic in big cities is getting worse and seriously compromising our quality of life!
Few would argue that China, as an emerging economy, needs to sell cars. In fact, it sold more cars than any other country since 2009. This is also the problem. Take Beijing for example, the city already has more than 4 million vehicles. And in the first half of this year, nearly two-thousand a day were added to the street. If this trend continues, in 4 years, the capital will have 7 million cars.
To put the figure into perspective, the maximum capacity for the city's urban area is 200-thousand vehicles. In other words, should Beijing's first, second and third ring roads become congested, they can only accommodate less than a quarter of a million vehicles, let alone seven-million.
And it's amazing to find out how OFTEN Beijingers use their cars. According to the Beijing Traffic Research Center, the annual mileage of Beijing residents' cars is 15 thousand kilometers, twice the number of Tokyo residents and 1.5 times higher than people in London. And 40 percent of the time, Beijingers use their cars for trips less than 5 kilometers.
So that's big cities, what are the challenges facing China's smaller cities and towns?
We learned soaring housing prices is a major issue in Chinese second-tier cities. For example, in the first quarter, home prices increased more than 10 percent in cities such as Haikou, Kunming and Zhengzhou. In cities including Nanjing, Shantou and Tangshan, the figure reached nearly 20 percent.
The rising real estate price is believed to be associated with a controversial land-bidding system.Now developers who offer the highest price, and possibly with the strongest connections with key local officials, get the land, regardless of their professional track record and credentials.
A report submitted by the NPC standing committee says in 2009, less than 30 percent of the central governments budget for affordable housing was duly spent by local officials.
The lack of supervision and transparency are believed to be a cause, which also gives rise to irregular dealings and corruption. That includes illegal land-grabbing, cronyism in the workplace, and academic misconduct. All these prevent these second-tier and third-tier Chinese cities from becoming a fairer society.
Editor:Zhang Pengfei |Source: CNTV.CN