Watch Video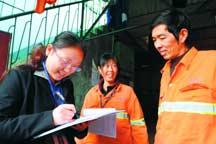 Play Video
Six million census takers currently working across China, will conclude the country's sixth national census on Wednesday. A recheck and spot check will be randomly carried out among residents starting from Thursday. Those who miss the census for personal reasons can choose to take part before the end of the month.
It's been the largest census in history.
More than 6 million census takers have fanned out since the ten-day census started on November 1st. This census for the first time will include foreigners who live and work in China, as well as the populations of Hong Kong, Macao, and Taiwan. Unlike Chinese citizens, foreigners only needed to answer 8 simple questions, including name, gender, date of birth and education level.
Another major change in the current census is that the population is counted on the basis of where people live rather than on their house registration or registration status. The census collects information on the size, geographic location and socioeconomic characteristics of China's population, including their education, family history, employment and resident status.
Experts say, at a time of rapid economic growth and social change, the census provides a much needed and up-to-date portrait of China's diverse population and its changing character. An accurate and complete count will provide a benchmark for formulating future policies for China's social and economic development.
Like all other countries, China also faces great challenges when conducting the census. One major challenge is to find people at home who can provide the needed information, especially in large urban cities where people fear their personal information could be leaked. Another challenge is to count the huge numbers of migrant workers who are crucial for the development of Chinese society.
Editor:Zhang Ning |Source: CNTV