Watch Video
Play Video
British Prime Minister David Cameron has given a speech at Peking University. Students expressed their opinions over his visit, and gave their main thoughts on sino-British relations.
In his speech at Peking University, David Cameron said he hoped that his visit will lead to greater political openings between the two countries. He is convinced that the best guarantor of prosperity and stability is for economic and political progress to go hand in hand.
A student said, "I think the most important thing is ecnomic issues, because the world is hit by the economic crisis, and England had a quite big problem in economic. So I think the whole people in England want Chinese businessmen to invest there. I think Cameron come to China, the most important reason is economic too."
As for the university students, their main focus was on the exchange of educational opportunities between the two nations.
A student said, "Since I have class today, I can't go to Prime Minister's speech. I'm planning to Great Britain for further study, my major is geography information system, but concerning on the cost I'm still planning."
In 2009, the number of applications for visas from Chinese students to study in the UK increased by 40%. Despite stricter entry requirements, there is still a great demand amongst Chinese students to study in the UK.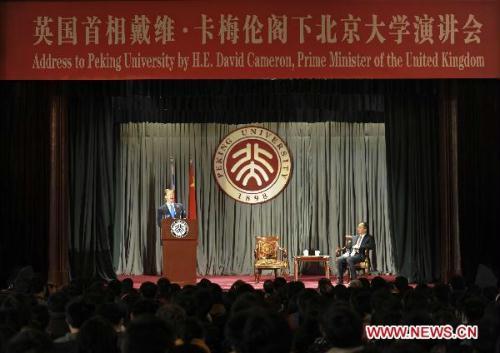 Visiting British Prime Minister David Cameron delivers a speech and answers
questions from students in Peking University in Beijing, capital of China, Nov.
10, 2010.(Xinhua/Xie Huanchi)
Related stories