Watch Video
Play Video
President Hu Jintao arrived in Seoul on Thursday morning. Before world leaders officially kicked off their discussions, Hu Jintao held separate meetings with other leaders, including his US counterpart Barack Obama, Russian President Dmitry Medvedev, and South Korean President Lee Myung-bak.
Hu Jintao and Barack Obama met for the third time this year.
President Hu said China is willing to strengthen the dialogue, exchanges and cooperation with the US. He was invited to visit the US next year. Obama said the two countries were making progress in discussions on economic issues. He added that both sides have a special obligation to deal with ensuring strong balance and sustained growth.
When meeting with his Russian counterpart, Hu Jintao said China and Russia have reached consensus on the all-round development of their strategic partnership of coordination. Medvedev hailed the achievements that were made on his latest China trip in September. He said the visit was conducive to boosting the development of bilateral ties.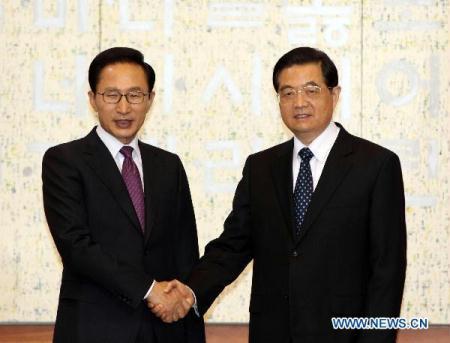 Chinese President Hu Jintao (R) meets with South Korea's President Lee
Myung-Bak in Seoul, capital of South Korea, Nov. 11, 2010. (Xinhua/Lan
Hongguang)
President Hu Jintao also held talks with his South Korean counterpart Lee Myung-bak. Regarding bilateral trade, President Hu suggested the two sides should try to reach the 200-billion-US-dollar target by 2012 and the 300-billion-dollar goal by 2015. China is South Korea's largest trading partner while South Korea is China's third largest one.
During an interview with South Korean media, Hu Jintao expressed confidence that the Seoul summit would yield positive results. He said China is ready to work with the other G20 members to build on achievements made at previous summits.
Related stories