Watch Video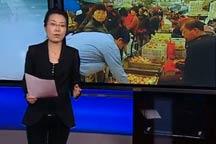 Play Video
For more on the mounting consumer price inflation, our reporter Liu Ying joins us.
Q1. The consumer price index hit a new high in October. Can you give us a more detailed picture of the items that are driving the price increases?
LY: Indeed the 4.4 percent inflation rate in October exceeded the expectations of many forecasters. This chart shows the general trend of the consumer price index growth so far this year. We can see the CPI growth has been continuously accelerating over the year, from only 1.4 percent in January to 4.4 percent in October, which is a two-year high.
One consensus is that soaring food prices are the culprit behind this round of inflation. Authorities say the price of food surged more than 10 percent from a year ago in October. That's compared with a year-on-year growth of 8 percent in September, 7.5 percent in August, 6.8 percent in July and 5.7 percent in June.
Actually we've seen price surges on a large range of agricultural and food products for months, from rice and soy beans to vegetables, sugar and cotton among others. As these are all every-day necessities, consumers, especially low-income earners are the ones who have felt the pinch the most. Experts suggest the government provide subsidies to low-income earners to help them cope with the inflation.
NDRC: Excess liquidity causes rapid growth of consumer prices
Zhou Wangjun, an official with the National Development and Reform Commission attributes the current rapid growth of consumer prices to excess liquidity on the global market, rather than supply shortage, which had been the major cause in previous years. Full story >>
Q2. How will international hot money affect China's inflation situation?
Yes, it's a concern that the US Federal Reserve's latest move towards a policy of easy money could further add to China's inflationary pressures. Many believe it will boost global commodity prices and increase hot money inflows into China. But some experts say it will take a fairly long time to transfer this quantitative easing to effective investments in the US, where bank lending is still at a quite low level and investment is still seeing negative growth. So there will be an impact, but how big the impact will be still remains to be seen.
Expert: Hot money speculation drives up food prices
Liu Yuanchun, Renmin University said "Excessive liquidity and a change of people's investment ideas led to the capitalization of agricultural products and other commodities, making them targets of hot money speculation. Substantial liquidity flowed from real estate and capital markets to agricultural and commodity markets, further aggregating the tight balance of supply and demand and substantially pushing up prices." Full story >>
Q3. What are the measures the government may adopt to curb inflation?
Monetary-tightening measures, including interest rate hikes, increasing bank reserves and curbing bank lending, are considered the best ways to mop up the excess liquidity.
In addition, as speculation on agricultural products and other commodities is the main reason for the price increases, cracking down on such speculation is essential. Already we have seen some policy measures being announced by the NDRC and other government departments to prevent hoarding of and speculating on certain farm produce and commodities, such as cotton. But in the long run, experts say the government should step up supply management and infrastructure construction to ensure the balance of supply and demand for key agricultural products.
Editor:Xiong Qu |Source: CNTV.CN