Watch Video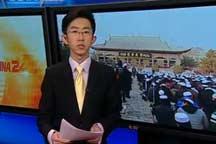 Play Video
And now for more and further infomation about the Corban Festival, we are joined by the News Anchor from Arabic Channel of CCTV, Zhang Bo.
Q1: Zhang Bo, you work in Arabic Channel, so you must have some friends around you that celebrated the Corban festival, and how do they feel about this festival?
A1: Exactly, I've got friends from both Arabic Channel and all walks of life who actually have celebrated the Corban festival, or we say the feast of Sacrifice. Many of them are from Xinjiang Uyghur Autonomous Region. They told me this year they have a 3-day public vacation announced by their regional government from Wednesday to Friday, and they can continuously have the following weekend, so added together they can enjoy 5 days of break for all kinds of celebrations from today on as the Corban starts. How do they feel? Well, ah-um, you know, one of the features of Corban Festival is that they give the slaughtered sheep, to the POOR as a gift after keeping some parts for their own, so it is feeling of offering and caring and doing charity. And also, as a Chinese saying goes: 民以食为天:people regard food as their prime need. So they enjoy this opportunity to prepare delicious meals full of ethnic features and local flavors to greet the arrival of the festival. And in the meantime, it is a time they spend with families and friends, and praying for being able to afford food and housing. Besides, some of the Muslim families also hold a ritual at home - according to their tradition - to pay tribute to ancestors, mourn the deceased and pray for a happy future. All in all, today is all about the start of happiness, commemoration, thanksgiving and harmony for them.
Q2: Yes, it is. And another thing we'd like to know is, it seems to have two names one is Korban, the other is Eid-ul-Adha. What is the difference between them?
A2: What you ask is just what I'll say. Allow me to explain the two names of the festival. For Korban, it comes from Persian LanguageEid al-Adha is an Arabic word, with the meaning of the feast of sacrifice. So both the two names carry a meaning of pursuing for the infinite good.