Watch Video
Play Video
In Southwest China's Sichuan Province for the latest on 29 miners who were rescued from a flooded coal mine on Monday. All are in good condition and getting treatment at a local hospital.
The Batian Coal Mine is located in Weiyuan County, Neijiang City. The accident occurred when the mine suspended production for renovations. After being brought to the surface, the miners were brought to Weiyuan County hospital for treatment.
Doctors say most of them are suffering from trauma or stomach cramps, with some showing symptoms of dehydration. Nurses are making sure that the miners are getting enough food, to ensure a speedy recover, which is expected to take a week.
Doctors have stressed the importance of providing mental health care in order to avoid post traumatic stress. Meanwhile, an investigation team has been set up to find out the cause of the accident, and will punish those responsible.
It's suspected that water from an abandoned neighboring pit flooded into the one that the miners were operating in, which blocked the main shaft and the ventilating shaft.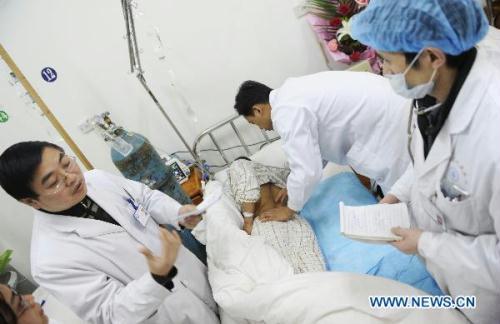 Doctors hold a consultation for a miner at a hospital in Weiyuan County, southwest
China's Sichuan Province, Nov. 22, 2010. The twenty-nine miners, who were trapped in
a flooded coal mine here on Nov. 21, were successfully rescued Monday. Eighteen
medical experts have held consultations for them. (Xinhua/Jiang Hongjing)
Related stories