Watch Video
Play Video
In Central China's Henan Province the water supply has been restored to most residents in the provincial capital Zhengzhou. Monday afternoon, the city was paralyzed after a third water pipe burst this year. And as for the reason, still due to the aging pipe.
Flood water from Monday's water pipe burst has been drained. Water to most parts of the city is back on. While fire engines are busy carrying clean water to the region while repair work is still underway.
A resident said, "Thanks to fire crews, I have water to cook my next two meals. Everything happened so fast. I don't even have time to prepare for a lack of water."
Everything looks normal now, but Monday afternoon, you would not have recognized this city.
The blowout first occurred in a residential building. The incident left more than one million residents in need of water.
Water flooded a nearby street and almost paralyzed traffic flow.
Dealers in a nearby computer mall suffered greatly.
A dealer said, "Water began pouring in very fast, it was up to my knees in a few minutes, I didn't even have time to move the computers. Everything is destroyed now."
Official say besides the aging pipes, changing temperature and long time running to meet the demand are also the main cause of the burst. This is now getting to be a common occurrence, and no one can guarantee there won't be a fourth one.
Aging water pipes are becoming a headache for Zhengzhou residents. This year there have been three serious pipe blowouts.
The first occurred June 22nd as a construction team accidently broke a major pipe that is used for the city's water supply. 300 thousands residents had no water for at least three days.
The second burst last Wednesday was the largest in decades, as more than 800 thousand residents' were affected.
However, that record was soon broken as more than one million resident were without water following Monday's calamity.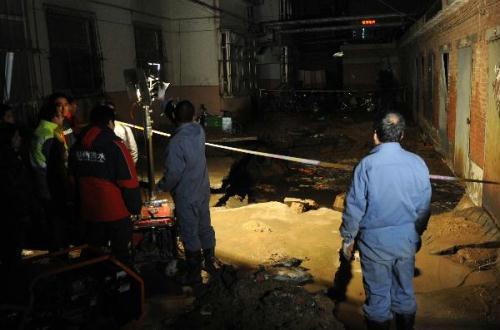 Workers of local tap water company repair the broken pipeline in Zhengzhou, capital
of central China's Henan Province, Nov. 22, 2010.(Xinhua/Zhao Peng)
Related stories