Watch Video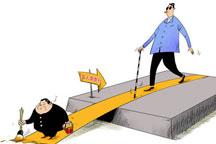 Play Video
In Changsha city, Central China's Hunan Province, a blind track is making headlines. And it is making news, not for its convenience but because of the difficulty blind people have walking on it. Authorities are trying to solve the problem, but cases like this are not special in China.
This is the blind track that is causing so much grief.
It has nine turns in its twenty-meter long journey.
That is not the only thing that affects people walking on the track, they also have to avoid garbage cans or wire poles.
This design is difficult for people with sight, let alone the blind.
A resident in Changsha city, Hunan Province, said, "Why do they build it so twisted, it's much better to be straight. I think it is of no use to the blind because it has so many obstacles."
Not far from the track is a blind massage center, where almost everyone of the staff has been injured walking on the path.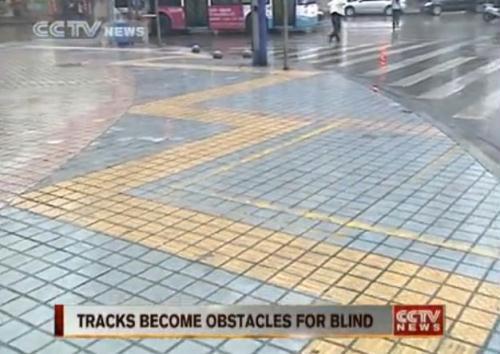 It has nine turns in its twenty-meter long journey.
Mr. Wang said, "Walking on the road, we have to avoid vehicles. But on blind tracks we have obstacles too."
Cases like this are quite common in the city.
Blind tracks can become quite busy outside hospitals, hotels or restaurants, causing great trouble to the blind.
Up to now, Changsha has blind tracks that cover about 720 kilometers throughout the city. Due to poor construction, the paths last only about one or two years.
The good news is local authorities say they are doing their best to solve the problem.
New laws will be announced soon, forbidding the laying of obstacles on blind tracks, which will also be connected with public facilities like bus stations or subways.
Editor:Zhang Jingya |Source: CNTV.CN