Watch Video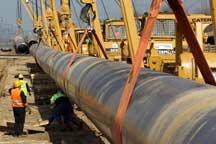 Play Video
Though big progress has been made in the regular meetings between the two countries, some problems are still up in the air including the ongoing disagreement over natural gas pricing. Chinese premiere Wen Jiabao started the 15th Sino-Russia Regular Meeting on Tuesday where natural gas disagreement is seen as top of the agenda.
The long-running disagreement over natural gas pricing is expected by many people to be resolved during the meeting. However, no substantial progress has yet been made.
The disagreement could date back to 2006 when the two countries signed a natural gas contract... under which China would import a total of 70 billion cubic meters natural gas yearly from Russia. However, price differences has prevented the contract from being carried out.
China's expected price is below 200 US dollars per thousand cubic meters. That is far below the 300 US dollars offered by European Union buyers.
Russia says China should pay prices similar to what they charge European customers, but Beijing wants a discount, because Russia offers discounts to all its cooperative countries. The two sides have disagreed on this issue for years.
The wrangling over gas prices has also delayed the construction of a key gas pipeline to China.
Differences in gas prices between the two has been narrowing recently as China and Russia signed a series of contracts on oil cooperation. The 25 billion US dollar oil program signed at the beginning of the year is expected to trigger a turning point in natural gas cooperation.
Meanwhile, China's frequent cooperation with other natural gas exporters like Turkmenistan also worries Russia. Both conditions are seen as a boost for the settlement of the long-running issue.
Editor:Zhang Ning |Source: CNTV.CN