Watch Video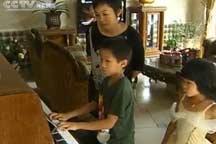 Play Video
Hong Ziyi is in her thirties, but already has a life which would be the envy of many people.
She and her husband live here with their two children, a boy and a girl. It's a 400-square-meter house in suburban Beijing. And it's just one of many properties she and her husband own.
She used to be satisfied with everything in her life. But a few years ago her son's homework made her thinking about leaving the country.
Hong Ziyi said, "In his homework, my son described the moon as a banana. But his teacher said the answer was wrong. The moon should be described as a boat. I think it was a bit ridiculous."
Since then, Hong Ziyi has been considering moving to the US or Singapore, where she thinks the educational environment will be better.
Hong Ziyi said, "I hope my child will receive a better education. China is developing really fast these days, in every aspect. But the education environment will not improve in a blink of an eye. "
But her decision has met with different opinions. Her son is willing to go, while her daughter is not, neither is her husband or her mother, who lives with her.
Hong Ziyi's mother said, "We can raise a smart and decent kid here in China. Moving to a foreign country is not the only option. I just don't want her to go. "
Hong Ziyi is trying to ignore the disagreement. She is still busy going to various introductory lectures about investor migration projects.
Editor:Zhang Ning |Source: CNTV.CN