Watch Video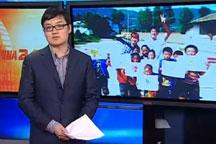 Play Video
For more on the general situation of HIV and AIDS in China and what people living with the virus truly need, our reporter Shen Le joins us in the studio.
Q1. Good evening Shen Le. Could you tell us more about the general picture of HIV/AIDS in this country?
SL: The Ministry of Health has released its latest figures regarding the situation of HIV and AIDS in China. It estimates a total of 740-thousand people are living with HIV and AIDS in this country. The first case of infection was reported in 1985.
This estimate also includes unreported cases. The total number of reported AIDS-related deaths has jumped by nearly 20-thousand to more than 68-thousand since last year. Also a study finds that unprotected sex and drugs have sped up the spread of the virus, while blood transmission has become a weaker factor in the prevalence of the pandemic.
Q2. And what do people living with the virus need most in this country? I know you've been covering the issue ever since 2003. So you've got to have much to say about this, yes?
SL: Right, back in 2003, during the SARS outbreak, I visited a village in Henan. The entire village was infected due to blood transfusion. Back then people there had basic drugs to help them cope with AIDS, but what they needed most was financial support so they could afford better drugs with less side effects.
Last year, during a Thomson Reuters training session at Tsinghua University, I visited a local grassroots NGO formed by people living with HIV and AIDS in Beijing. They told me what people needed most was more understanding and care and less discrimination when it comes to things like education and finding a job. Also a lot of them approached me and asked me why media types always come around on World AIDS Day?
He explained that what they need is constant support and attention from the public." That's something I've always been thinking about. But above all, I think equal treatment is what they need most.
ZY: Quite right. That's something we media workers need to keep in mind. Thank you for the report, and moving on to the next subject at hand...
Editor:Zhang Jingya |Source: CNTV.CN