Watch Video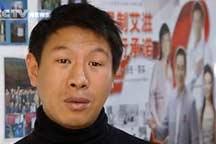 Play Video
So the theme of this year's AIDS Day is "Light for Right", underscoring the importance, of anti-discrimination. Here in China, there's growing awareness of people living with HIV/AIDS, and their right to receive respect and dignity. CCTV reporter Han Bin brings us, one man's story of how he lost three jobs due to his HIV-positive status.
Looking for work.
34-year-old Ma Zhifa surfs the Internet for jobs.
After he found out he was HIV-positive two years ago, his whole life changed.
He lost everything: job, income, marriage and confidence to live.
HIV/AIDS sufferer Ma Zhifa said, "I lost my previous jobs because my companies knew that I am HIV positive and they coerced me to quit. They said that if customers were to know I am an HIV carrier, the company would suffer economically."
Ma Zhifa hopes society can find enough tolerance to give him a chance to work. Now his only support come from his daughter, who's been taken away by her mother. And without an income, he can't provide for his child.
The official number of HIV/AIDS patients in China is around one million, less than one percent of the population. But across the country, discrimination is common in medical treatment, the workplace and at school.
Yu Fangqiang is a lawyer at the non-profit Yi Renping legal aid Center. He says the country's AIDS Prevention Regulation stipulates that HIV carriers have the right to marriage, employment and medical treatment. The problem is the implementation.
Yu Fangqiang, Chief coordinator of Beijing Yi Renping Center, said, "The root cause of discrimination is society's prejudice against HIV/AIDS. In addition, there are many Chinese regulations and rules that limit employment criteria for the HIV positive."
Yu Fangqiang is helping two HIV carriers win back their right to work. Both have sued the local departments for denying their applications for teaching posts. The two cases are seen as the first ones pertaining to employment discrimination against HIV carriers in China.
Yu Fangqiang said, "Few HIV carriers have legal protection of their rights. Many don't have the courage to speak out, because of fear the information will be leaked, resulting in more discrimination."
To help remove the stigma, international organizations, including the UNDP, are urging China to educate the public.
Subinary Nandy, China director of UN Development Program, said, "I see a shift but I must also mention it's fairly a slow shift and we would like to work with our partners here to make it much larger a campaign."
Ma Zhifa is determined to live a positive life. He hopes his openness may help start better treatment for others with similar experiences of discrimination.
HIV/AIDS sufferer Ma Zhifa said, "There should be someone to speak out first. I have already lost everything, so discrimination against me may not be that damaging, compared with other HIV carriers, who are fearing to sacrifice what they have left."
When China released legislation that outlaws discrimination against people with HIV/AIDS in 2004, it showed the determination of the government to remove the stigma. Six years later, discrimination against people with HIV/AIDS is still widespread. Still, many believe that legal protection should be the base line for protecting those with HIV/AIDS, and should not give way to social prejudice. For that, the country has a long way to go.
Editor:Zhang Ning |Source: CNTV.CN