Watch Video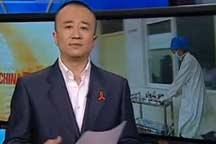 Play Video
To further discuss the HIV/AIDS situation in China, my colleague Han Bin joins us in the studio,
Q1: Han Bin, you've reported on HIV and AIDS developments in China for almost a decade. Can you briefly outline the country's policy changes regarding this issue?
HAN BIN: Yes. When the extent of the problem began surfacing in other countries in the 1980s, it was treated as a foreign disease in China. However, as the numbers of HIV-positive Chinese grew, AIDS gradually forced itself into the public consciousness and the government confronted the challenge. Changes have taken place step-by-step over the past decade, and were well reflected through activities at each year's World AIDS Day. For example, in 2000, China launched a nationwide campaign to boost AIDS awareness among its citizens. Two years later, the focus shifted to the rural population. To break down the barrier of fear, in 2003, then-Vice Premier and Health Minister, Wu Yi, visited a village in Henan Province where blood transfusions had caused a spike in HIV infections. This was followed by Chinese leaders greeting AIDS patients face-to-face, sending a strong message that the government was focused on tackling the epidemic rather than talking the talk. However, deep-rooted cultural traditions make it difficult for many Chinese people to overcome the stigma of the sexually transmitted disease. It's still a tough challenge for the government.
Q2: From what you have observed, how much has discrimination against people with HIV/AIDS changed? Is it still as rife today as a decade ago?
HAN BIN: For a long time AIDS was a sensitive topic in China. When I first covered a story on it more than 10 years ago, it was a difficult task. Finding HIV/AIDS patients who were willing to talk in front of the camera was almost impossible. The public felt embarrassed talking about the disease, which they believe is only transmitted through unsafe sex. Many sufferers would rather die at home for fear of being discriminated. A decade later, discrimination is still common. For example, even the two brave HIV carriers in my report, who sued the local government for employment discrimination, dared not to talk on camera. Many people with HIV/AIDS still remain silent about their condition, or delay treatment for fear of being discriminated against. This has expanded the scope of the problem here in China. I have to say that the situation for HIV carriers has improved drastically, but it's obvious that much remains to be done. It's only through increasing awareness and removing the stigma that people living with the disease are treated with dignity.
Editor:Zhang Ning |Source: CNTV.CN