Watch Video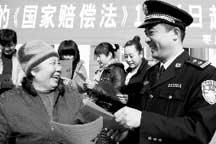 Play Video
Chinese citizens now have greater power to obtain compensation when their rights are violated by the state. As of Wednesday, the amendments to the State Compensation Law will take effect. This is a significant step, because it's the first time there has been any change since the law was implemented 15 years ago.
For the first time, the law amendments include compensation for psychological injury. The amendments also expand the scope of state compensation. A citizen will be compensated now when harmed by state negligence. Previously, state compensation would only be granted when state departments violated the law.
The amendments also remove the requirement of acknowledgement and allow victims to directly apply for compensation. Before, citizens had to first obtain written acknowledgement of a violation from the department which caused the loss before applying for compensation.
Related stories
Editor:Zhang Ning |Source: CBTV.CN