Watch Video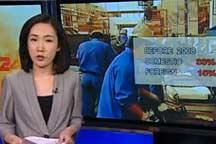 Play Video
The latest taxation is a somewhat controversial move and China's investment environment is now being scrutinized. But the government here maintains that foreign and domestic companies will be treated equally. Full Story>>
For more on the new foreign company tax policy, we are joined in the studio by our reporter Guan Xin.
Q1: Today marks the end of preferential tax treatment for foreign companies operating in China. Can you tell us how the tax gap has gradually narrowed?
A1: Foreign invested enterprises have enjoyed more preferential tax since the beginning of the reform and opening up. At that time, China was in great need of foreign capital and advanced technologies. Since 1994, China has started to make efforts to create a uniform tax environment. After China's entry to the WTO in 2001, requests for equal taxes became even stronger. January 1st, 2008 was a turning point in unifying taxes, because from then on, both foreign and local companies in China started enjoying a unified 25 percent business income tax, instead of foreign companies paying just 15 percent while domestic firms paid 33 per cent, a difference of 18 per cent.
Q2: We know you have spoken to and interviewed some foreign company bosses about the new policy, what's their attitude to the news?
A2: Actually, most foreign companies are not willing to comment on the issue. Of course it's not a very happy thing for anyone to pay more money. But it's also fair for the Chinese government to make competition between foreign and local companies much fairer. A lot of companies' executives say they will not reduce their commitment of investing in China. Actually they are coming out with bigger and more ambitious plans in China, because this is an emerging market, with a robust growth rate and growing consumption. The increase in tax is trivial compared to the promise of profits. And in their opinion, other issues concerning the investment environment are more important, such as they feel they lack access to certain sectors, such as communications and insurance.
Editor:Zhang Ning |Source: CNTV.CN