Watch Video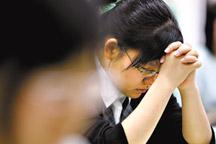 Play Video
While some people are busy saving every penny, others are more concerned about making money. The unemployment rate in the US and European countries has been high since the global financial crisis broke in 2008. But in China, promoting employment has also topped the agenda at the Central Economic Work Conference for the past two years. As this year' conference approaches, Keith Crane finds out that concerns over jobs are still an issue for many people.
In a Beijing labor market, job seekers struggle towards posters listing job information, hoping to find a suitable position.
Some of them are optimistic, but some look lost.
Job hunter Liu Yafang said, "I did some research on the internet. My major - HR, is highlighted as really in demand."
Job hunter Wang said, "The situation doesn't look good, at least not for IT undergraduates."
Research shows that nearly half of graduate students say this year's employment climate is tough.
And in just a few years' time, some majors have fallen from being the most popular in the jobs market, to the least wanted.
So, before China's top leadership gathers again to discuss the coming year's work plan, students about to leave university have questions on how to find a job, and even how to get by without a job.
A Beijing college graduate said, "Is the economy next year going to get better? Will that help ease employment pressure?"
A Beijing college graduate said, "If we can't find a job before graduation, keeping asking money from parents is embarrassing, while doing a part-time job is little better. Is there any policy that can help people like us?"
Similar questions were raised two years ago. And the central government did respond.
At the Central Economic Work Conference 2008, authorities explicitly expressed their determination to boost employment. And more proactive policies were introduced in 2009.
But apparently more needs to be done.
Professor Zheng Gongcheng, school of Human Resources of Renmin University, said, "The government should further promote employment-related public services. More beneficial policies need to be provided to small and medium-sized enterprises, which will absorb quite many workers. And thirdly, more should be done to organize and manage social resources."
What might comfort nervous graduates, is that new employment promotion policies have been made. Starting from January 1st next year, for example, enterprises will be given tax cuts to boost recruitment.
Editor:Zhang Ning |Source: CNTV.CN