Watch Video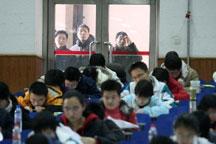 Play Video
Chinese education workers have been trying to modify the college entrance system. Starting next year, many Chinese universities will be more independent in recruiting students.
Experts say it is a significant reform that will change the fact that one test decides future. However, many worry the process may be implemented too quickly, and the reform may not be efficient. CCTV reporter Feng Jinchao has the details.
Since the resumption of college recruitment in 1977, college entrance exams have been changing the fate of tens of millions Chinese from all walks of life. More importantly, it shaped China's educational landscape. After thirty years, many in China hope it could make a change.
Professor Li Yue, Tsingshua University, said, "Generally, the unique standard is the character of current college entrance exams. It brought some problems. For example, it unified the value of selecting talent, and unified the goal of high school education. These factors restricted the cultivation of talent."
Starting in 2011, universities in China are going to have more access to self recruitment, which means the 30-year old national college entrance exam will not be the only judgment for students' entering colleges. Some universities formed leagues to absorb students, especially those who have outstanding skills in specific areas.
The two leading leagues, respectively led by Peking University and Tsinghua University, cover China's top colleges. Students' scores will be recognized within league members.