Watch Video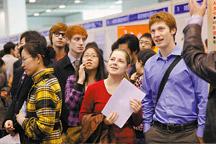 Play Video
There are at least 200,000 foreign students graduating in the country. What do they do after college? And how do they find jobs here? CCTV reporter Zhang Ni tries to answer those questions.
After graduating, Byeun Sung-Yeun found work as a Korean teacher at the Beijing Language and Culture University. Because of her fondness for China, she quit her job in South Korea, and came to China for her PhD. She thinks she is very lucky to stay here.
Korean teacher Byeun Sung-Yeun said, "Among all my 10 classmates that came at the same time, I am the only one that was able to stay in China. It's not easy to find a good job here now. One of my Korean friends works at a small language training school, and she is not happy about her temporary job."
Language teaching is one of most popular jobs for Korean students graduating in China. In the Wangjing community of Beijing, there are approximately 150-thousand Koreans.
Jo Jung-Woo is one of them. He studied Chinese in Beijing and found a job in another popular business for Koreans: Show biz.
Jo Jung-Woo, manager of Beijing GCOMM Promotion Company,said, "You need skills other than Chinese to find a good job here."
He taught guitar at a music school for a year, but it was just a temporary job. He needed to find a permanent job. But, how?
Jo Jung-Woo said, "I asked my friends and relatives, to see if they knew of any positions. Actually most Koreans here do it this way."
He's lucky he found a job with a promotion company through a friend. But both Byeun and Jo say most of their compatriots that came with them went back to South Korea.
According to the Education Ministry, nearly 70 percent of international students are from South Korea, followed by the US and Japan. Most choose Chinese as their major.
Beijing Language and Culture University has eight times more international students than Chinese students -- that is the highest portion of international students in the country. They have an employment center for Chinese students, none for international students.
Wu Zhiyong, director of BLCU Department of International students, said, "Many of our international graduates are meant to go to work at their embassy, or go back to their country and work in cultural exchange programs."
Although it's not easy to find a permanent job, students are still willing to stay in China.
American student of BLCU Class of 2011 said, "I want to work here as an interpreter after I graduate."
"I want to be a translator."
Japanese student of BLCU Class of 2011, said, "I have already started looking for jobs at trading companies. I think it's easier to find work here than in Japan."
Every year, the State Administration of Foreign Experts Affairs organizes an exclusive job fair for all foreigners in the country. This provides hundreds of job opportunities. But there's still a long way to go considering more than 200,000 foreign students graduate in China every year.
Editor:Zhang Ning |Source: CNTV.CN