Watch Video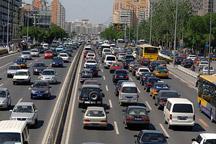 Play Video
Beijing's traffic congestion is now much too serious to be left unattended. In response, municipal officials have started soliciting public opinion on a draft plan designed to solve the problem. A number of the possible new measures quickly caught people's attention.
According to Beijing's newly-presented draft plan, stricter rules for road use are under consideration.
Traffic controls based on the last number of a car's license plate -- odd or even, for example -- might be reintroduced on congested thoroughfares during rush hours.
Li Xiaosong, deputy director of Beijing Municipal Communications Committee, said, "We're working on the option, if necessary, and opinions from the public are wanted. We promise to make logical decisions, with factors like how bad the jams are and how slow the cars go, all considered."
Another potential measure grabbing public attention is a congestion fee. Administrators say this charge is being considered to prevent vehicle ownership from increasing too fast.
Li Xiaosong said, "In London, Singapore, and other international transport hubs, congestion fees are already being charged. Beijing can join the trend at an appropriate time. We also want to hear what the public thinks about it."
Li adds that the rapid explosion of wheels in China's capital has prompted officials to come up with these proposals.
Analysts say Beijing has no choice but to make unprecedented efforts to improve its transportation patterns, as the area is experiencing traffic flow deterioration on one hand, and unprecedented car sales on the other.
The city already has 4.7 million registered automobiles. The local road system, even with every planned expansion program included, can only support a maximum of 6.7 million vehicles. But based on current growth trajectory, there might actually be 7 million on the streets by 2015.
Editor:Zhang Ning |Source: CNTV.CN