Watch Video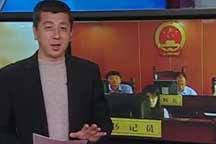 Play Video
A focus of the session is the death penalty amendment. For more on this, we are joined by our reporter, Xu Zhaoqun.
QUESTION: Hello, Zhaoqun, what types of changes will the amendment draft bring in regards to the death penalty?
ANSWER: Currently, there are 68 crimes punishable by death in China. The draft amendment will cut 13 offenses from the list, including smuggling prohibited cultural relics,rare animals and their products and precious metals out of the country. Others include carrying out fraudulent activities with financial bills; and carrying out fraudulent activities with letters of credit, just to name a few.
Basically, they are all non-violent and economic-related offenses. The amendment also states the removal of capital punishment for those aged 75 or older, pregnant women and teenagers under 18 years of age, at the time the crime is committed.
But, while the legislature is limiting the use of the death penalty, they are also providing stricter rules for a reprieve, or clemency from the death penalty.
QUESTION: Major amendments to the death penalty are pretty rare in China, how often do they happen, is this first time?
ANSWER: Yes, if the amendment becomes law, it will be the first time the list for crimes punishable by death has been reduced, since China enacted its Criminal law in 1979. Actually, China made a lot of efforts to limit the death penalty in recent years.
In 2007, the Supreme People's Court began reviewing the approval all death penalty cases to make sure decisions by lower courts were accurate. In recent years, many countries have been trying to reduce the use of the death penalty. As far as I know, there are more than 90 countries that have capital punishment, but at least 40 countries haven't used it for 10 years. In China, the death penalty is also rarely used in most crimes currently on the list.
Editor:Zhang Ning |Source: CNTV.CN